Based on the same metric from the EPA's air quality statistics portal, New York City did better in 2013 than it did in 2018: it ranked in 4th place among major U.S. cities instead of 6th.
That said, New York City's air quality continues to improve. The NYC Department of Health—which also monitors air quality through its Community Air Survey—found that annual average levels of four key pollutants declined between 2009 and 2017: 
PM 2.5 has decreased by 30%; 
Nitrogen dioxide has gone down 26%; 
Nitric oxide has decreased 44%;
Black carbon has decreased 30%.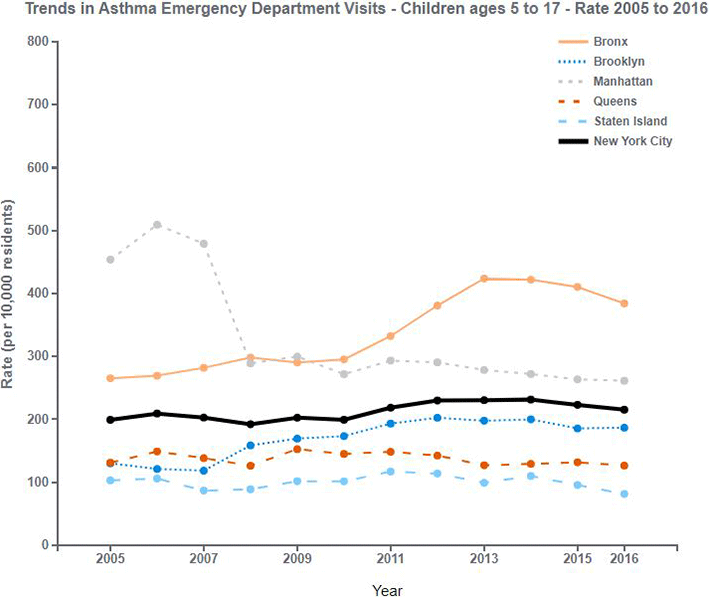 ---
Quality of Life
According to a three-year rolling average of EPA's air quality statistics portal, NYC is in 6th place as of 2018.

In 2018, the city had achieved a 1.4 mg/m3, or 20% reduction, across city neighborhoods.

The city has cleaned up 756 brownfields as of 2019.

The city has cleaned up 415 brownfields in low- and moderate-income communities.

In 2019, the city partially completed this by developing guidelines for city buildings only.

In 2019, 81.5% of New Yorkers were within walking distance to a park.
Transportation
Not Measurable

The city originally used the In-Season Commuter Cycling Index for this indicator, but has since stopped using it. However, according to the NYC Department of Transportation, cycling increased 55% between 2012 and 2017.

As of July 2019, the city had 1,243 bike lane miles.

As of March 2020, 660 EV charging stations were in operation in the city.
Waste
Incomplete

In 2005, the city sent 3.6 million tons of waste to landfills. In 2019, 3.25 million tons were landfilled, which is equivalent to a 9.8% reduction.

In April 2020, the city temporarily suspended organics collection due to the COVID-19 pandemic. Before the suspension, while some neighborhoods had the option to enroll in curbside collection, the programs did not serve all New Yorkers.

A study on commercial waste zones was completed in 2016.
Energy & Buildings
In 2019, the city generated 10.51 MW of renewable power on city buildings.